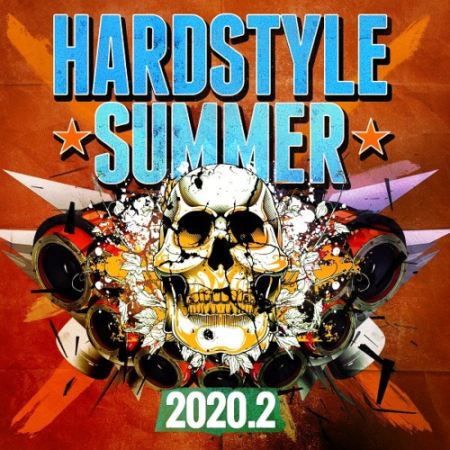 Artist: Various Performers
Title: Hardstyle Summer 2020.2
Label: More Music & Media GmbH & Co. KG
Style: Hardcore, Jumpstyle, Newstyle Gabber, RawStyle, Hardstyle
Release Date: 02-10-2020
Format: CD, Compilation
Quality: 320 Kbps/Joint Stereo/44100Hz
Codec: MP3
Tracks: 36 Tracks
: 02:15:08 Min
Size: 312 MB
01. D-Block & S-Te-Fan, D-Sturb - Feel It! (Radio Edit) 3:57
02. Frequencerz - The Grind (Radio Edit) 4:09
03. Atmozfears, Demi Kanon - Move Ma Body (Uptempo Edit) (Radio Edit) 3:25
04. Scabtik - Tmy (Radio Edit) 2:40
05. Adaro, Rejecta - Strong (Radio Edit) 4:05
06. Ran-D, Andy Svge - Armageddon (Radio Edit) 5:13
07. Keltek, B-Front - Step Into The Game (Official Intents Festival 2020 Anthem) (Radio Edit) 6:06
08. The Prophet, D. Sonar, Jdj - Yrml 2k20 (Radio Edit) 2:47
09. Ephoric - The Awakening (Kickerz 2020 Anthem) (Radio Edit) 4:29
10. Baq, Andrew Liogas - Hallucinations (Radio Edit) 2:53
11. Shockwave - Eternal Light (Radio Edit) 2:33
12. The Prophet - Outta Control (Radio Edit) 2:39
13. E-Force, Digital Punk - My God (Kronos Remix Radio Edit) 3:42
14. Devin Wild, Artilax - Everlasting 2020 (Radio Edit) 3:34
15. Ghost Stories (D-Block & S-Te-Fan) - The Enemy (You Cannot See) (Radio Edit) 3:12
16. Retrospect - Together We Grow (Radio Edit) 3:37
17. Gunz For Hire - Every Breaking Wave (Radio Edit) 4:01
18. Audiotricz - Alchemy Of Hardstyle (Ecstatic Remix Edit) 3:50
19. D-Charged, John Harris - Remedy (Radio Edit) 2:34
20. D-Block & S-Te-Fan, Dj Isaac - Harder State Of Mind (Radio Edit) 3:57
21. Stormerz - Can't Breathe 4:24
22. Re-Style - Wildfire (Adaro Remix Radio Edit) 3:27
23. Hyperion - Future Of Music 3:06
24. Maxxus, Anklebreaker - Power Of Light 4:58
25. The Saraphim - Give Me A Sign (Radio Edit) 3:14
26. Zyon - Dreaming 3:13
27. Blame Noise, Yuta Imai - Jump In 3:13
28. Dark Rehab, Anklebreaker - Kill Me (Radio Edit) 4:53
29. Seizmic, Maxxus, Robbie Rosen - Champion 4:06
30. Devin Wild, Michael Jo - Trouble (Radio Edit) 3:28
31. Proto Bytez - Stronger (Radio Edit) 3:30
32. Baq, Andrew Liogas - Exist No More (Radio Edit) 3:07
33. B-Front - Letting Go (Radio Edit) 4:44
34. Solstice - Tears In Rain (Radio Edit) 4:31
35. Dj Isaac - Party People (Radio Edit) 3:19
36. Ran-D, Phuture Noize - Paranoid (Digital Punk Remix Radio Edit) 4:35
Показать Скрыть текст
Edition: More Music & Media GmbH & Co. KG displays a variety of stylistic content of the material, that is, will be, and perhaps will be, just a discovery.
Hardstyle is an electronic dance genre, once classified as a sub-genre of Hard trance, it member of the hard dance music family, which mixes influences from hardtechno, hard house, and hardcore. Hardstyle typically consists of a deep, hard-sounding kick drum, intense faded or reversed basslines accompanying the beat, a synth playing a melody, and detuned and distorted sounds. Most early tracks still had characteristics as hard trance. Since, early hard trance were misclassified as early hardstyle, they indistinguishable to each other at one point, however grow into it's own genre through collaborations where the difference were noticable.
As noted before, hardstyle can be split in different styles, depending on the mood, tempo and other characteristics of the track. Each sub genre of hardstyle has inspired the creation of events tailored to each sub genre. As well as an addition to your collection and archives.
DOWNLOAD
(Buy premium account for maximum speed and resuming ability)