Comic Book Character Creator: Superheroines
14-06-2019, 12:26
Bo0mB0om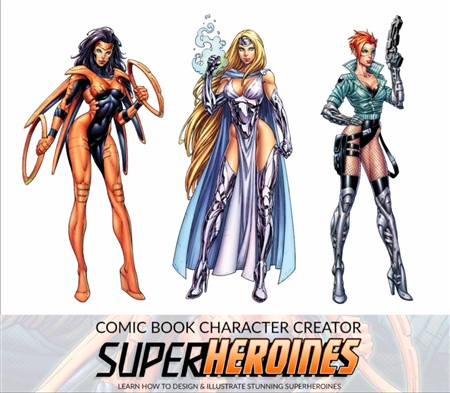 Comic Book Character Creator: Superheroines | 3.8GB
You'll learn the complete production workflow for designing, drawing, inking and coloring three female comic book characters using a combination of Manga Studio and Photoshop. Along the way I'll explain my creative process in detail and show you the exact techniques I use to digitally illustrate high quality, professional looking comic book characters.
In this 5+ hour video demonstration you'll learn an easy to follow, step by step method for creating beautiful comic book women from start to finish. Each lesson is concise and to the point, cutting out the fluff and leaving you with a clear guide that'll reveal how it's all done.
Assignments & VCAC Access:
Each chapter comes with an accompanying assignment to help you put everything you learn throughout the course into action. Better yet, you'll be able to submit your assignments to the Virtual Comic Art Classroom (VCAC) - a closed Facebook Group where you'll get direct, one-on-one feedback on your work from me, as well as your comic art classmates!
This almost guarantees that you'll see a significant improvement in your work from purchasing this course - and if you don't see any results whatsoever after implementing what you've learned, you'll get a full a refund within 30 days of purchase.
What You'll Learn:
The full comic art production workflow for 3 female characters
Professional character design techniques
Advanced Inking, rendering and coloring methods
Specialized techniques for rendering form, hair, drapery, metal and a variety of other materials
What You Need Before You Start:
This course is for intermediate to advanced students only!
A base level understanding of drawing (form, shape, perspective)
A base level understanding of figure drawing (proportions, anatomy, gesture)
Beginner level understanding of Photoshop and Manga Studio
Clip Studio Paint (Manga Studio), Photoshop and Tablet
Who This Course Is For:
This course is for anyone who wants to create stunning Superheroines using the complete comic book character production workflow taught in this course.
Updates:
You'll receive an e-mail for every update and future update to this course, and will be able to access them from your course package as soon as they're published.
Contact:
Contact me at
[email protected]
if you have any questions or concerns about Comic Book Character Creator: Superheroines - And I'll be happy to answer them for you!
13 Lessons (5h 57m)
1. Introduction
2. Welcome
3. Hardware Overview
4. Chapter 1: Concept Sketches
5. Chapter 2: Foundations
6. Chapter 3: Design Draft
7. Chapter 4: Inking Zing
8. Chapter 5: Inking Guardina
9. Chapter 6: Inking Glitch
10. Chapter 7: Base Coloring
11. Chapter 8: Rendering Zing
12. Chapter 9: Rendering Guardina
13. Chapter 10: Rendering Glitch
DOWNLOAD
(Buy premium account for maximum speed and resuming ability)